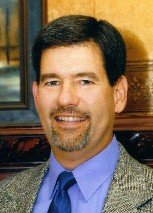 Mark Mitchell believes that everyone deserves fair representation. His general practice includes a spectrum of several areas of the law, including criminal, divorce, custody, estate planning, business, real estate, contracts, municipal law, collections, and litigation.
Wexford County Lawyer
Mark R. Mitchell
If you need the services of an experienced Wexford County general practice firm that has dealt with many of the courts in Northwest Lower Michigan, call the law firm of Mark R. Mitchell, in Cadillac, Michigan. They have represented business, divorce and criminal defense clients in the region for more than 25 years.
Mark Mitchell received his undergraduate degree in Business Administration from Michigan State University in 1986 and his law degree from Case Western Reserve University School of Law in Cleveland, Ohio, in 1989. He is a member of the State Bar of Michigan and the American Bar Association.
If you are looking for an established attorney with a proven track record who will give your case the personal attention it needs, give the Law Office of Mark R. Mitchell, P.C., a call at 231-775-7300 or email us, and we will respond promptly, typically within 24 hours.