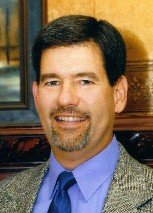 Mark R. Mitchell
124 East Chapin Street Cadillac, MI 49601
Biography
Mark Mitchell believes that everyone deserves fair representation.  His general practice includes a spectrum of several areas of the law, including criminal, divorce, custody, estate planning, business, real estate, contracts, municipal law, collections, and litigation.
After earning a Business Administration degree at Michigan State University, Mr. Mitchell attended Case Western University School of Law where he received his Juris Doctor degree.  His business background has been an important asset to him in working on all legal matters.  After a period of working with other law firms as a law clerk and as a new attorney, Mr. Mitchell commenced his own law practice in Cadillac, Michigan in 1991.  He practices in Northwest Michigan in all areas on a regular basis and throughout the State of Michigan when required.
Mark Mitchell will carefully gather the facts and information surrounding your legal matter in order to enable him to better understand your situation and provide you with the best recommendations and options for handling your legal matter.  Whenever possible, proper planning and reasonable alternative resolutions are considered and discussed with clients as well as the option of utilizing the court system.
Mr. Mitchell and his family live in the Cadillac area where they participate in and enjoy a variety of school and community programs and activities.  Mark enjoys skiing, hunting, kayaking, sailing, camping, hiking, backpacking and boating.
Education
Case Western Reserve University Law School, Cleveland, Ohio
Michigan State University, East Lansing, Michigan

B.A. – 1986
Major: Business Administration
Bar Admission
Michigan, 1990
U.S. District Court Western District of Michigan, 1995
U.S. District Court Eastern District of Michigan, 2000
U.S. Supreme Court, 1998
Practice Areas
Criminal Defense- Drunk Driving
Adoption
Alimony and Spousal Support
Assault and Battery Defense
Business Law
Collections
Contracts
Corporate Law
Creditor Rights
Custody and Visitation
Debtor and Creditor Law
Divorce
Domestic Violence
Driver License Restoration
DUI/DWI/OWI
Family Law
Felonies
Foreclosures
Friend of the Court Matters
Garnishment
General Practice
Guardianship and Conservatorship
Juvenile Crimes
Juvenile Law
Landlord/Tenant
Limited Liability Companies
Litigation
Misdemeanors
Probation and Parole
Real Estate
Support
Traffic Violations
Trial Practice
Visitation
Wills